Need our specs on the go? Download the PDF by clicking the button.
Dimensions will vary with different truck makes, models and specifications. Varies with options selected. Based on Model MACK MRU 613 with 2116 pump cell. Weights are approximate and include pump, boom, truck, driver and full fuel.
Folding type:  5-section Z-folding
Max. vertical reach:  106' (32.3m)
Max. horizontal reach:  93'5" (28.5m)
Max. depth reach:  67'3" (20.5m) (incl. End hose 3m)
Unfolding height:  19'4" (5.9m)
Slewing angle:  360deg.
End hose length:  10'(3m)
Delivery pipe dia: 5" (125mm)
Pump cell:  2116
Control system:  Closed Free Flow Hydraulic
Main pump:  A4VG125x2
Concrete cylinder (mm):  9"x83"(230×2,100mm)
Strokes No: (per min.) 30
Concrete output*:  210yd3/h (160m3/h)
Concrete pressure*:  1,233psi (85bar)
Transfer tube type:  S-Tube, S2018 (Dia. 230-180mm)
Volume of hopper: 158gal (600L)
*Rod side. Ouput & pressure are theoretical data.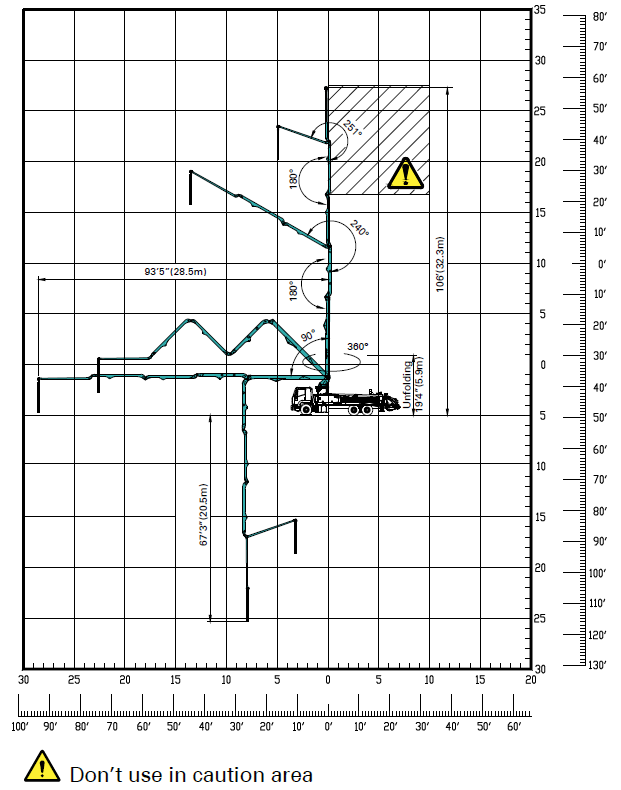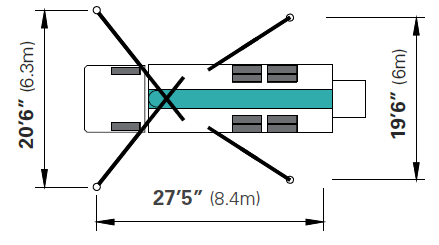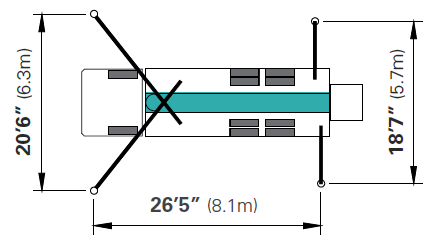 Front outrigger type:
X(Diagonal) Extension
Rear outrigger type:
T Leg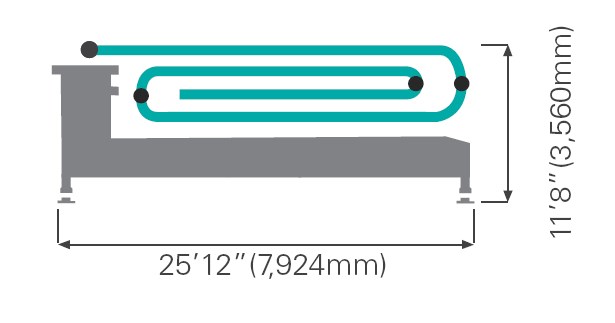 Inductive proximity switch with indicator
Single lip concrete piston
Hard-chromed concrete cylinders
Outrigger pilot check valves
Greasing port on boom link and pedestal
Working light on pedestal
Aluminum platform(non-skid)
Bubble gauge on both side
Flushing water pump(30bar)
Water tank (600L)
Spray nozzle with 15m hose
Auto lubrication system for hopper
Tungsten carbide for wear ring and plate
Flap elbow(180-150mm) with cleaning port
Reducing pipe(150-125mm)
Agitator motors on both side hopper
Working light on hopper
Twin wall pipe line
Working light on boom
Auto-lubrication for boom and pedestal
Hopper cover
Central manual lubrication for hopper
Safety device for hopper
Vibrator on hopper grid
Stainless hand rail
Auxiliary fuel tank on one side rear outrigger
Customized color
Pumps*EVERDIGM reserves the right to make changes to specifications and supply scope.
Specifications and supply scope are subject to change without prior notice.